For Immediate Release
April 17, 2018

Contact:
Beryl Wolfe, Wolfe PR
(520) 399-5770
E-mail: beryl@wolfenews.com

Dave McGillivray Runs 46th Straight Boston Marathon – at Night – After Spending Day Directing World-Famous Road Race
McGillivray ran in support of the Martin Richard Foundation's Team MR8
BOSTON (April 17, 2018) – Boston Marathon Race Director Dave McGillivray ran his 46th Boston Marathon last night, shortly after completing his duties directing the world's most famous road race.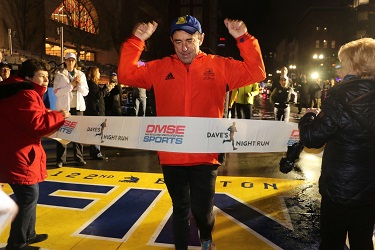 In addition to directing major, competitive road races like the B.A.A. Boston Marathon and the TD Beach to Beacon 10K in Maine as the owner of DMSE Sports, Inc., McGillivray, 63, is known for his feats of endurance to raise money for worthy causes. He ran from Medford, Oregon to Medford, Mass., in 1978 and in February completed the World Marathon Challenge by running seven marathons in seven days on seven continents, making Monday's marathon his ninth marathon of this year already.
Last night he ran the Boston Marathon on behalf of Team MR8 to raise money for the Martin Richard Foundation, created in memory of the 8-year-old victim of the 2013 Boston Marathon bombings.
Martin's parents, Bill and Denise Richard, were among the gathering of family and friends – including legendary runners Meb Keflezighi and Joan Benoit Samuelson – who greeted McGillivray at the finish. On Friday, McGillivray presented the Richards with a "mock" check in the amount of $112,000 representing the money raised for MR8 during his World Marathon Challenge and his Boston Marathon fundraising efforts.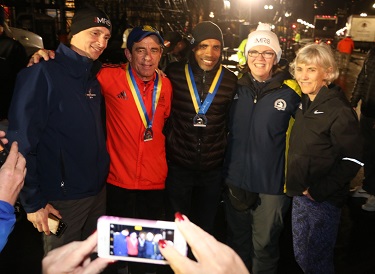 Encountering the same cold, heavy rain conditions that 27,000 runners faced earlier in the day for the first 18 miles of his run and temperatures in the 40's and low 50's, McGillivray was joined on his night-time marathon run by Eric Gilsenan, Nick Wishart, Brent Richardson, Matt Auger, Jason Todd and Josh Cohen. He set out in Hopkinton around 5 p.m. and crossed the finish line on Boylston St. at 10 p.m.
McGillivray also recently published a children's book focused on his first two Boston Marathon runs as a teenager and the obstacles he faced.
"Dream Big: A True Story of Courage and Determination" is a nonfiction picture book based on his 2006 autobiography "The Last Pick," in which McGillivray shares his unique, true story about reaching deep and showing extreme determination in the face of doubt, disappointment and loss. It was launched in Boston last month and is for sale on Amazon, Barnes & Noble and other online stores.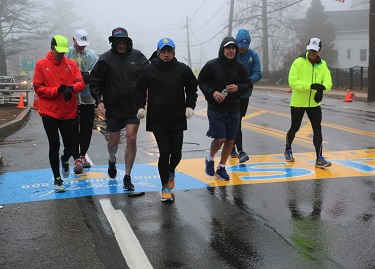 McGillivray has served as the technical and race director of the famed Boston Marathon for 30 years. He and his company, DMSE Sports, are a leader in the sports management field with over 75 staff and consultants locally and across the country. The firm manages more than 30 running events and races a year across the U.S. – from Maine to California.
McGillivray, a Medford native who now lives in North Andover, Mass., is also known as an inspirational speaker who gives talks to schoolchildren and a variety of groups throughout the country.
About the Martin W. Richard Charitable Foundation
Founded in 2014, the Martin W. Richard Charitable Foundation Inc. is a charitable foundation formed by Bill and Denise Richard, the parents of eight-year-old Martin Richard, who was killed in the bombing at the Boston Marathon on April 15, 2013. In the days after his death, a photo of Martin holding a handmade poster that read "No more hurting people. Peace" was shared over the Internet and made many see Martin as a symbol of peace.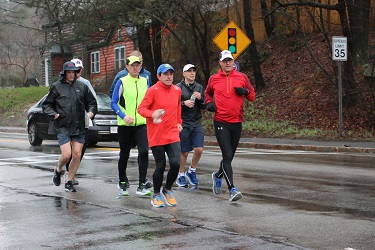 The Martin Richard Foundation strives to encourage youth and adults to improve the lives of others and become bridge builders, peacemakers, leaders and change-makers by being kind, compassionate and committed to inclusion and the acceptance of diversity.
Named for Martin's initials and his favorite sports number, Team MR8 was formed as a means for Boston Marathon runners to raise needed funds for the advancement of the charity's mission. Funds raised through the Boston Marathon will support all Martin Richard Foundation programs and their partners. To learn more about the Martin Richard Foundation, visit www.martinrichardfoundation.org.
# # #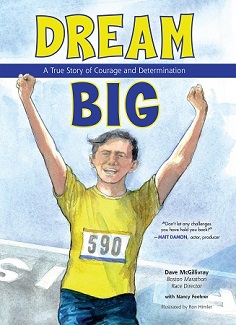 Images
Top: Dave McGillivray crossing finish line on Boylston St. with family members holding the tape
2nd: Post run with (from left) Bill Richard, Dave McGillivray, Meb Keflezighi, Denise Richard and Joan Benoit Samuelson
3rd: Dave McGillivray setting out in Hopkinton with Eric Gilsenan, Nick Wishart, Brent Richardson, Matt Auger, Jason Todd and Josh Cohen
4th: Dave and his running companions on the marathon course
Right: Dream Big book cover
Below: Sample pages from Dream Big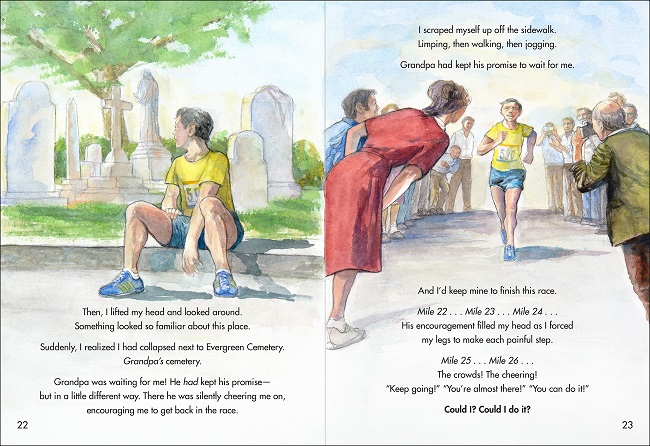 Here is more news and information about DMSE Sports.
NOTE: Wolfe News Wire is an online source for news and information about noteworthy companies and organizations. We invite you to share this content and/or leave a comment. Background info and past news items from a specific organization can be found by clicking the side logos. For more info, please email info@wolfenews.com. Thank you!
©2015 Wolfe Public Relations. All Rights Reserved.