Featured News

Gisele Kloeckner of TD Bank Named 'Innovation and Impact Housing Hero' by Vermont Housing Finance Agency
A Burlington-based relationship manager, Kloeckner honored for her achievements developing affordable housing in Vermont
BURLINGTON, Vt. (Dec. 13, 2018) – Gisele M. Kloeckner, Senior Relationship Manager at TD Bank in Burlington, has been named an Innovation and Impact Housing Hero by the Vermont Housing Finance Agency (VHFA).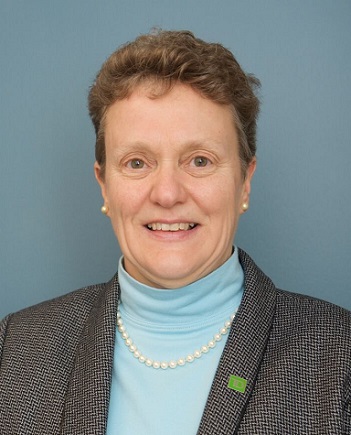 In presenting the award to Kloeckner, the VHFA cited her achievement in overseeing, on behalf of TD Bank, more than $400 million of credit toward the development and rehabilitation of affordable housing, impacting more than 1,000 homes.
Kloeckner was one of three statewide leaders honored at the VHFA's annual housing conference in Burlington for their service and vision for affordable housing in Vermont. She received her award jointly with Hilary Melton, founder and executive director of Pathways Vermont, and Vermont State Senator and President Pro Tempore Tim Ashe received the Legislative Housing Hero award.
Kloeckner, who joined TD Bank in 1989, works in commercial lending. Through her efforts, TD Bank has significantly impacted the supply, quality and affordability of safe, efficient and affordable housing across Vermont.
"Being recognized by the Vermont Housing Finance Agency is a great honor and accomplishment for Gisele Kloeckner," said Phil Daniels, Commercial Market President for Vermont and Upstate NY, TD Bank. "At TD Bank, we are committed to understanding and connecting to what matters most in our communities, including access to safe and affordable housing."
In addition to providing funding to community organizations, TD Bank also supports affordable housing investments in the state through low-income-housing tax credits that benefit underserved communities. TD Bank has funded well over $100 million of Low-Income Tax Credits (LIHTC) that have enabled housing agencies to support new construction and the rehabilitation of affordable housing for families, individuals and elderly residents. Additional support has been given through the TD Charitable Foundation, the charitable giving arm of TD Bank, with more than $1.5 million of grants to affordable housing groups and agencies in Vermont.
Kloeckner thanked her customers and community partners for "providing me and the bank with opportunities for financing and making investments in new housing communities."
"Together, over the years as partners, we have converted former department stores, mill buildings, unimproved land, contaminated sites, and a variety of other parcels into new, clean, affordable housing," she said. "It is a testament to the cooperation of all those gathered here today."
Kloeckner is a Vermont native who lives in Shelburne. In addition to her work at TD Bank, she volunteers with Lund Family Center, the Committee on Temporary Shelter (COTS) and at the King Street Center, where she has tutored young children. She is also a longtime member of the Vermont Community Loan Fund Loan Monitoring Committee.
This support for affordable housing directly reinforces TD's Ready Commitment, a multi-year platform that actively promotes inclusivity, economic vitality, environmental wellbeing and health, enabling people of all backgrounds to succeed in a rapidly changing world. As part of The Ready Commitment, TD targets $775 million in total by 2030 towards community giving in four critical areas: Financial Security, a more Vibrant Planet, Connected Communities and Better Health. For information, visit The Ready Commitment.
About TD Bank, America's Most Convenient Bank®
TD Bank, America's Most Convenient Bank, is one of the 10 largest banks in the U.S., providing more than 9 million customers with a full range of retail, small business and commercial banking products and services at more than 1,200 convenient locations throughout the Northeast, Mid-Atlantic, Metro D.C., the Carolinas and Florida. In addition, TD Bank and its subsidiaries offer customized private banking and wealth management services through TD Wealth®, and vehicle financing and dealer commercial services through TD Auto Finance. TD Bank is headquartered in Cherry Hill, N.J. To learn more, visit www.tdbank.com. Find TD Bank on Facebook at www.facebook.com/TDBank and on Twitter at www.twitter.com/TDBank_US.
About the TD Charitable Foundation
The TD Charitable Foundation is the charitable giving arm of TD Bank, America's Most Convenient Bank®, one of the 10 largest commercial banking organizations in the United States. Since its inception in 2002, the Foundation has distributed nearly $199 million and more than 19,400 grants through donations to local nonprofits from Maine to Florida. More information on the TD Charitable Foundation, including the online grant application, is available at TDBank.com
# # #
NOTE: Wolfe News Wire is an online source for news and information about noteworthy companies and organizations. We invite you to share this content and/or leave a comment. Background info and past news items from a specific organization can be found by clicking the side logos. For more info, please email info@wolfenews.com. Thank you!
©2015 Wolfe Public Relations. All Rights Reserved.