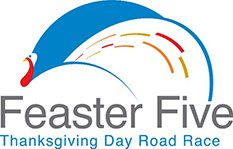 For Immediate Release
November 19, 2014

Contact:
Beryl Wolfe, Wolfe PR
(520) 399-5770
Dave McGillivray, DMSE Sports
E-mail: dmse@dmsesports.com
Web Site: http://www.feasterfive.com

Still Time to Register for the Festive, Family Friendly Feaster Five Road Race on Thanksgiving Day
Online registration at www.feasterfive.com available until 6 a.m. on Monday
ANDOVER, Mass. (November 20, 2014) – There's still time to register for the Feaster Five Thanksgiving Day Road Race, as online registration will remain open for the popular race until 6 a.m. on Monday (Nov. 24).
A field of 10,000 is expected for this year's 5-mile and 5K races at the Feaster Five, known throughout the region as a festive and fun holiday event where every finisher gets an apple pie from Table Talk.
After the online registration closes Monday morning, those who still want to participants will need to register in person at the Expo or on race morning at Woodworth Motors on Main St. in Andover.
Race organizers noted a host of new developments for this year's event. On-site registration, bib, t-shirt pickup and the Feaster Five Expo – featuring sponsors, vendors and a variety of VIPS – will be held at a new location this year: the Sakowich Center at Merrimack College, on Monday and Tuesday (Nov. 24 -25) noon until 7 p.m. and on Wednesday (Nov. 26) noon until 6 p.m.
Running legends and inspirations, including Joan Benoit Samuelson, Bill Rodgers, the father-son Team Hoyt, John Young, Dave McGillivray and others, will appear at the Expo. A schedule of events will be posted on the race website.

In addition, the Start line for all three races this year will be Shawsheen Square, adjacent to Brickstone Square on Main Street in Andover. The Feaster Five Road Race's 5-mile and 5K races will both begin at 8:30 a.m. and the Kid's Fun Run will start at 7:45 a.m.
Also new are mobile lockers available in varying sizes with rentals starting at $5 on site, or they can be rented online in advance for a 20 percent discount at www.themobilelockerco.com. Small lockers are ideal for cell phones, keys and a layer of clothes while larger ones will fit bulkier items or a gym bag.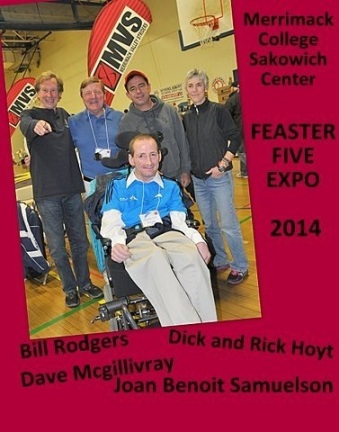 Proceeds from the race, which is hosted by the Merrimack Valley Striders and managed by DMSE Sports, will benefit the Merrimack Valley YMCA, Challenge Unlimited at Ironstone Farm, Bellesini Academy and the Merrimack Valley Striders.
Feaster Five sponsors for the 2014 event – many of whom will be at the Expo - are Eagle-Tribune Publishing, Table Talk Pies, Bagel Boy, Whirlaway Sports Center, Dunkin Donuts, Wignall Animal Hospital, GW & Wade, Holy Family Hospital, Tallman Eye, Acquia, BNY Mellon, Kiwanis Club of Greater Lawrence, Woodworth Motors, Brickstone Square, Costa Fruit, Fuddruckers, Dick's Sporting Goods, Cape Cod Chips, Seacoast Coca Cola, Smolak Farms, Align Credit Union, Eastern Bank, Merrimack Valley Credit Union, Enterprise Bank, Schneider Electric, McGladrey Tactician, MFA, Orange Leaf, Food Should Taste Good and Larabar. To become a sponsor, contact dmse@dmsesports.com.
Volunteers also are needed. Detailed information about how to sign up to help on race day can be found on the volunteer page at www.feasterfive.com/Volunteer or by e-mailing Crissy Licciardello at crissyL26@yahoo.com.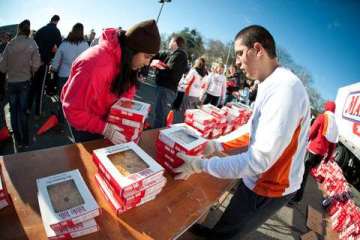 For additional information and to register, go to the race website at www.FeasterFive.com.
Founded by Dave McGillivray in 1981, DMSE Sports is a leader in sports event management, specializing in creating, marketing and producing mass participatory athletic events throughout the U.S. and abroad. In addition to the Feaster Five, DMSE manages the B.A.A. Boston Marathon, the TD Beach to Beacon in Maine, the New Balance Falmouth Road Race on Cape Cod, the Finish at the 50 at Patriot Place, Run for the Dream in Williamsburg, Va., the Bellin Run in Green Bay, Wis., and the Boston Marathon Jimmy Fund Walk, among others. For more info, visit www.dmsesports.com.
# # #
Here is more information about DMSE Sports
NOTE: Wolfe News Wire is an online source for news and information about noteworthy companies and organizations. We invite you to share this content and/or leave a comment. Background info and past news items from a specific organization can be found by clicking the side logos. For more info, please email info@wolfenews.com. Thank you!
©2014 Wolfe Public Relations. All Rights Reserved.