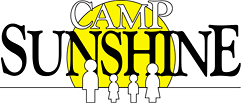 For Immediate Release
July 19, 2011

Contact:
Michael Smith, Camp Sunshine
(207) 655-3800
E-mail: msmith@campsunshine.org

Sarah Leong Oliver, New England Patriots Charitable Foundation
SarahL@patriots.com 508-326-4336

Web Site: http://www.CampSunshine.org

MEDIA ADVISORY: Former Patriots CB Roland James and Patriots Charitable Foundation to Visit Families with Children Battling Life-Threatening Illnesses at Camp Sunshin in Casco, Maine on Wednesday (July 20)
Event to include tour from Camp Sunshine's Community MVP Award winner Joey Cerato, $10,000 check presentation ceremony and Q&A with families
WHO:
Former Patriots CB Roland James
2011 Community MVP Award winner and Camp Sunshine volunteer Joey Cerato
WHAT:
Former Patriots CB Roland James and Patriots Charitable Foundation representatives will spend the afternoon with Community MVP Award winner Joey Cerato at
Camp Sunshine
, a retreat for children battling life-threatening illnesses and their families. Cerato, a volunteer at the camp, will guide James through a tour of the campus, explaining how the camp supports families in need. James and Camp Sunshine representatives will then participate in a special presentation to recognize Cerato with a Community MVP banner as well as a commemorative check for the $10,000 which has been awarded in his name to Camp Sunshine. The afternoon will conclude with a Q&A session with James for the children and their families as well as a time for autographs and photos.
VISUALS:
James touring Camp Sunshine's campus
James presenting Cerato with a big check and Community MVP Award banner
Cerato speaking about winning the Community MVP Award
James participating in a Q&A session
James signing autographs and taking photos with families in attendance
WHEN:
Wednesday, July 20, 3 p.m.
WHERE:
Camp Sunshine, 35 Acadia Rd., Casco, Maine
CONTACT:
New England Patriots Charitable Foundation – Sarah Leong Oliver
SarahL@patriots.com
508-326-4336
Camp Sunshine – Michael Smith
msmith@campsunshine.org
207-655-3800
About Joey Cerato, Community MVP Award Runner-Up
At age 11, Joey, long-time wanted to help those facing serious illnesses because of his family's annual visits to Camp Sunshine as a long-time volunteer . Because he was too young to be considered a volunteer at the time, he turned his dream of helping families unable to attend due to financial difficulties into reality when he created "Joey's Plunge," an event where community members raise funds by plunging into the cold ocean water during the winter months. Since 2006, he has worked to grow the plunge to numerous participants and multiple locations resulting in an endowment fund and raising more than $500,000 with Camp Sunshine totaling $100,000. Now old enough to be a volunteer, he works with the special groups of Camp Sunshine families that have lost a child.
About Community MVP Awards
The New England Patriots Charitable Foundation honored the 16 winners of the 2011 Community MVP Awards program on June 9 at Gillette Stadium. During the ceremony, the winners were recognized for their efforts, including one grand prize winner of $25,000, five winners of $10,000 and 10 winners of $2,500. The money is awarded to the non-profit organization for which each honoree volunteers. The Community MVP awards honor individuals who exemplify leadership, dedication and a commitment to improving their communities through volunteerism. Through the program, non-profit organizations
throughout New England have the opportunity to reward their hard-working volunteers for the invaluable time and support they provide to their communities. For more information about the 2012 Community MVP Awards visit
http://www.patriots.com/community
.
About Camp Sunshine
Camp Sunshine offers
children with life-threatening illnesses and their families
a place to relax together for a week, and to take a break from the extraordinary demands placed upon them on a daily basis. The year-round program is free of charge and staffed almost entirely by volunteers. It is the only program in the nation whose mission is to address the impact of a life-threatening illness on every member of the immediate family — the ill child, the parents and the siblings. Since its inception in 1984, Camp Sunshine has provided a haven for more than 35,000 individuals from diverse cultural backgrounds. In addition to providing 24-hour on-site medical and psychosocial support, the camp offers a variety of daily activities, including swimming, boating, archery and soccer, and special events such as bonfires and cookouts. To support Camp Sunshine, please call (207) 655-3800 or visit
www.campsunshine.org
.
# # #
NOTE: Wolfe News Wire is an online source for news and information about noteworthy companies and organizations. We invite you to share this content and/or leave a comment. Background info and past news items from a specific organization can be found by clicking the side logos. For more info, please email info@wolfenews.com. Thank you!
©2015 Wolfe Public Relations. All Rights Reserved.